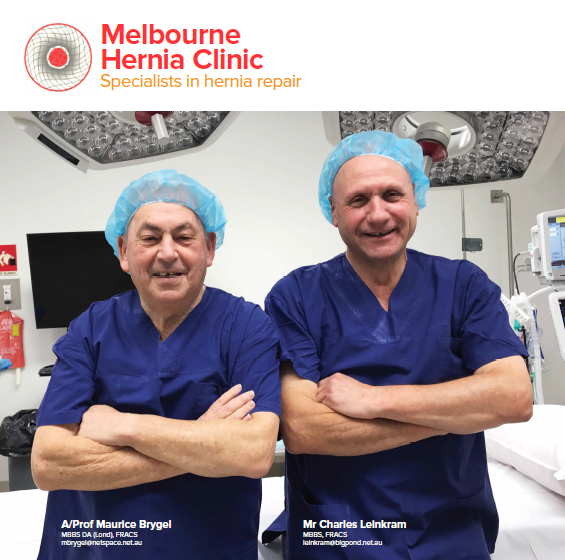 Welcome to the Melbourne Hernia Clinic. Australia's first hernia clinic! Over 30,000 hernia operations performed.
The   Melbourne Hernia Clinic provides a comprehensive service for the treatment of all types of hernias of the abdominal wall. Over twenty-five years ago A/Prof. Maurice Brygel introduced the "tension-free" method of repairing inguinal (groin) hernias, using mesh under Local Anaesthetic with sedation as a day-case (the Lichtenstein technique). This remains the gold standard for hernia repairs till this day. There are significant safety advantages with this method. The clinic has now evolved into one, which treats all varieties of hernias of the abdominal wall, in either adults or children, using open or laparoscopic techniques.
Frequently Asked Questions:
How soon can I be seen?
You can usually be seen within one week.
Surgery can then be arranged within one to two weeks if needed.  If the problem is urgent (for example strangulated or obstructed hernia) you would be seen on the same day and surgery arranged as necessary.
How much does it cost?
There is a fee for the initial consultation, which is partially covered by Medicare – approximately 30%.
The fee for the surgery or operation depends on whether you have private health insurance or if you are self-funded.
INSURED PATIENTS:
Gap fees apply
SURGICAL:
There is an out of pocket hospital fee, surgical fee, anaesthetic fee and an assistant's fee. Medicare rebates apply following surgery.
The referral process has two aims in our opinion.
Your referring General Practitioner provides us usually with details about your medical condition, medication and an overview of your health. This is an advantage and does make our consultation easier. However these are not always provided and with every patient we need to go through all of the details to ensure appropriate management is undertaken. For example we need to know whether you are on blood thinning medication prior to surgery, have any allergies to medication or need antibiotics during surgery.
The referral allows us to claim a Medicare rebate for you on the day. Without this referral you are unable to claim these back.
How do I make an appointment?
This can be made by calling the office directly, fax or email, as you prefer.
The details are HERE on our Website.
Our main office can be contacted by calling 03 9525 9077
What happens at the first appointment?
You will be given a Registration Form to fill out with all your personal details.
You will also be asked to fill out details regarding your medical history.
WHAT HAPPENS AT THE CONSULTATION:
The Surgeon will introduce himself and will ask you to tell him about your hernia. He will then ask you a series of questions such as: how long you have had pain or swelling. He will want to know whether you have had any x-rays or ultrasounds,
blood tests and their results.
As well as identifying your hernia problem, the Surgeon will want to assess your general condition and fitness for surgery should it be required. An examination will be performed.
ASSESSMENT FOR SURGERY:
It is a Surgeon's duty to assess all of this and balance the severity of the problem against any possible risks associated with the surgery. Hernia repair is usually a low risk operation but there are factors that require careful consideration. These will be discussed before any decision to operate is made.
Additional investigations may be required for further diagnosis of a hernia.