Welcome to the Melbourne Hernia Clinic. Australia's first hernia clinic. Over 25,000 hernia operations.
Devoted solely to hernia repair & abdominoplasty (tummy tuck).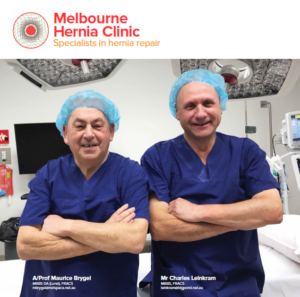 Day surgery




Local anaesthesia




Mesh reinforcement




Prompt return to activity




Australia's first hernia clinic




Adult and paediatric hernias




Insured, non-insured & workcover




22,000

+

hernia operations performed
Melbourne Hernia Clinic
The Melbourne Hernia Clinic provides a comprehensive service for the treatment of all types of hernias of the abdominal wall. Over twenty-five years ago A/Prof Maurice Brygel introduced the "tension-free" method of repairing inguinal (groin) hernias, using mesh under Local Anaesthetic with sedation as a day-case (the Lichtenstein technique). This remains the gold standard for hernia repairs till this day. There are significant safety advantages with this method. The clinic has now evolved into one, which treats all varieties of hernias of the abdominal wall, in either adults or children, using open or laparoscopic techniques.
Hernia Surgeon:
Mr Charles Leinkram – is the principal surgeon and performs all types of hernia repairs but has a special interest in repairing large complex incisional hernias, sometimes also incorporating an abdominoplasty ("tummy tuck").
Other Surgeons:
A/Prof Maurice Brygel – founder. A/Prof Brygel has performed over 9,000 hernia operations. He currently runs workshops for General Practitioners with Healthcert, the Royal Australasian College of Surgeons, and ARIMGSAS. Click here to find out about upcoming workshops.
Mr Peter Grossberg, has an expertise in laparoscopic or keyhole hernia repair.
We find that the clinic concept works well because:
There is always a second surgeon available with whom to discuss a complex issue.
We are able to offer early consultation (within one week) and prompt surgery (usually within two weeks).

One of our surgeons is always available for urgent problems.
Because most hernias can be treated as a day-case, non-insured patients can often afford private treatment. We also offer advice to patients by email or telephone.
Hands on Surgical Skills Workshops for GPs
Below are a list of courses for GP's run by A.Prof. Maurice Brygel. They aim to provide step-by-step operative techniques for managing common patient conditions.
Click Here for our Frequently Asked Hernia Questions
We usually apply this term when any part of the abdominal contents protrude through the abdominal wall. Hernias usually cause discomfort or a swelling. Occasionally they are first found during a routine medical examination.
The swelling is usually noticed when the person is standing or straining, it may disappear when lying down. A hernia usually consists of fat, bowel or occasionally fluid. Rarely the bladder, ovary or even the appendix may be part of the hernia.
With time many hernias become larger, painful and irreducible – that is they cannot be pushed back in. Hernias should not be ignored. If left untreated they tend to develop complications and become more difficult to repair.
Complications include bowel obstruction or strangulation. That is the contents such as fat or bowel becomes stuck and the blood supply is cut off. This may be life threatening. Emergency treatment is required. Because hernia surgery is safer now it is usually carried out earlier. Thus the incidence of bowel obstruction and strangulation of hernias has reduced. Increasing age is no longer a bar to surgery. It should be remembered that even babies and adolescents get hernias. Click here to learn more about why hernias occur.
Most hernias apart from incisional and hiatus can be treated surgically under local anaesthesia together with light sedation. The aim is a safe operation with a quick recovery and minimal short or long-term after effects or recurrence (i.e. – the hernia coming back). Most hernias can be treated in a Day Procedure Centre. Thus the cost for non-insured patients is not such a prohibitive factor. It avoids long waiting lists, the patient can have the Surgeon and technique of their choice. 'Open method' A cut is made directly over the hernia. A non-absorbable permanent mesh is usually used. The "tension free" technique is preferred. 'Keyhole surgery' – Laparoscopic. This is carried out under General Anaesthetic with smaller cuts – a mesh is always used.