About the Surgeons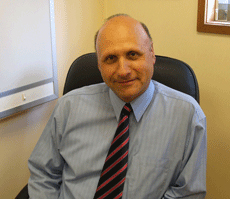 Mr Leinkram has been a Fellow of the Royal Australasian College of Surgeons since 1981. He trained at the Austin and Repatriation Hospitals in Melbourne.  After obtaining his Fellowship in General Surgery, he worked in England for two years, firstly at the Hammersmith Hospital in London and then at the Royal Victoria Hospital in Bournemouth.
Since commencing private practice in 1982, he has developed a great deal of expertise in short-stay surgery.  More and more types of operations now fall into this category, i.e., day-surgery or overnight-stay surgery.  With careful pre-operative assessment, sound surgical technique and the use of effective post-operative analgesia, operations as diverse as hernia repair, gallstone surgery and thyroid surgery can be done as short-stay cases.
In 2002, Mr Leinkram joined A/Prof Brygel at the Melbourne Hernia Clinic. They both perform the same type of operation for inguinal hernias, i.e. the tension-free mesh hernioplasty, under local anaesthesia with sedation.
Mr Leinkram also takes a special interest in the treatment of incisional hernias. This is a difficult and challenging problem because the patient often presents with a large abdominal swelling which might already have had one or more unsuccessful attempts at being repaired, and the swelling is also quite often associated with an unsightly overhang of abdominal skin and subcutaneous fat. Mr Leinkram has developed extensive experience in repairing these incisional hernias and at times combines this with an abdominoplasty (tummy-tuck). He has been performing abdominoplasties for over 20 years.
---
A/Prof Maurice Brygel graduated from medicine at Melbourne University.  Following this he trained in Anaesthesia in London where he had obtained a Diploma in Anaesthesia.  He then became an Anaesthetic Registrar at the Royal Melbourne Hospital in Melbourne where he passed the first part of the anaesthetic degree. However his first interest was surgery.
He then trained in surgery at the Royal Melbourne Hospital where he attained the Surgical Fellowship of the Royal Australian College of Surgeons.
Initially he practised all types of surgical procedures, but was inspired to concentrate on hernia surgery, following visits to Australia by Dr Lichtenstein who advocated the use of mesh and local anaesthesia. The Lichtenstein technique is now the benchmark for excellent results.
Having practised anaesthesia, A/Prof Brygel saw the advantages of local anaesthesia being much safer for patients, particularly where large numbers of cases were concerned. After visiting the Lichtenstein Clinic in Los Angeles and the Shouldice Clinic in Toronto where he witnessed patients walking out of the theatre immediately following surgery, he felt that this was the way to go.
The Local Anaesthetic technique is safe for younger patients, and more so for older patients. The recurrences were rare with the Lichtenstein technique. But not only this, the hospital stay was very short, just a few hours in many cases. At that time many Australian patients were in hospital for 4-5 days and there was a higher rate of recurrence.
How some things have changed in Australia and indeed in the rest of the world.
A/Prof Brygel started off using both techniques – the Shouldice and the Lichtenstein. The Shouldice technique is a suturing technique only and in those days wire was used. The Lichtenstein technique advocated a tension free repair with a mesh reinforcement. A/Prof Brygel used both techniques and found the mesh reinforcement better in his hands.
Now in many countries – as presented in June 1993 in London and again in Edinburgh in May 2014 at International Hernia Society meetings – up to 90% of patients have mesh for their hernia repair.
A/Prof Brygel attended the European Hernia Society conference and some key findings were:
Patients who attended hernia centres, or surgeons who concentrated on hernia repair, had better results than patients from the general population. For example in Scotland, Sweden and Denmark, over 95% of all hernia repairs were registered in the government hernia register and followed up. These patients had a higher recurrence rate and complications than those of specialist hernia surgeons.
A/Prof Brygel like all other surgeons requires accreditation at each hospital he operates at. He is also on the Medical Advisory Board of Masada Private Hospital and Sir John Monash Private Hospital.
All surgeons need to obtain accreditation with The Royal Australian College of Surgeons annually, by submitting data about the work they do and the educational activities they undertake. Each year A/Prof Brygel presents an audit of the hernia results to the College.
A/Prof Brygel classifies himself as a Hernia Specialist because:
The majority of his work is related to the diagnosis and treatment of hernias and related conditions.
He provides reports for insurance companies regarding patients and work-related hernia matters and their eligibility for WorkCare and return to work post-operatively.
He lectures to medical students, General Practitioners, surgeons in training and surgical colleagues.
He is an Honorary Senior Fellow in the Dept. of Anatomy & Cell Biology at the University of Melbourne, where he lectures on hernias and anatomy of the groin. He tutors to medical students on hernias at the Royal Melbourne Hospital.
He has also developed a teaching programme, books and videos on hernias. There are 7 volumes and videos – titled The Video Book of Hernias. Included in this category are related areas of scrotal conditions and testicular tumours. For more information visit www.globalfamilydoctor.com
He had previously published the Video Book of Skin Surgery on the diagnosis and treatment of benign and cancerous skin conditions. For more information visit www.globalfamilydoctor.com
Currently his practice is more then 60% hernia related.  A/Prof Brygel believes it is advantageous to still have some practise in other areas of surgery. Any patient that presents with a hernia should be assessed as a whole and worked-up pre-operatively. This ensures other problems are not overlooked and can be dealt with as appropriate. It is surprising how many patients present with a hernia and on further questioning have other undetected problems.
A/Prof Brygel practises in 3 hospitals under the Melbourne Hernia Clinic. He has several Specialist Anaesthetists who help on a regular basis. They include Dr George Sellton F.F.A.R.A.C.S., Dr David Pallot F.F.A.R.A.C.S. and Dr Robert Cox F.F.A.R.A.C.S.
---
Mr Peter Grossberg is a graduate of the University of Melbourne and a qualified General Surgeon. He is a fellow of the Royal Australasian College of Surgeons and the American College of Surgeons. He did his post-graduate training at the Alfred Hospital and then overseas at the Lahey Clinic in Boston USA and the Royal United Hospital, Bath in the UK. He has been in practise in general surgery for more than 25 years. His principal private practice is at Cabrini Hospital in Malvern.
He has been an anatomy teacher and examiner at the University of Melbourne at the undergraduate and post-graduate levels as well as being an examiner and surgical tutor at the Royal Australian College of Surgeons for post-graduate doctors. He continues to teach both undergraduate students for Monash University and post-graduate surgical doctors at Box Hill Hospital.
He is currently a senior lecturer in surgery at Monash University and is a Senior Surgeon and Head of Unit at Box Hill Hospital.
Since the introduction of laparoscopic surgery (keyhole) in Australia in 1990, his practice has specialised in laparoscopic surgery and he was one of the first surgeons in Melbourne to do laparoscopic (key-hole) surgery for gall-bladder disease. Laparoscopic surgery can now be done for many operations that were previously done as an open cut and in particular this technique has been adapted to all forms of hernia surgery. Some of the newer techniques involve the insertion of mesh, which is now glued to the abdominal wall rather than stapled with metal staples.  He has been in the forefront of the development of different techniques of hernia surgery and frequently runs workshops teaching laparoscopic hernia surgery for the Royal Australian College of Surgeons. He has an extensive practice in laparoscopic hernia surgery and has performed over 7,000 operations both as an overnight stay or as a day-case. He frequently acts as a mentor and assists other surgeons who are learning this technique.